O
M
S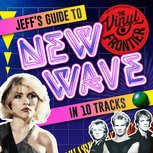 The Vinyl Frontier - Jeff's Guide to New Wave in 10 Tracks (online)
Join Jeff online as he charts a course through the choppy waters of the late 70s to discover what music bridged the gap between mid-70s Punk and the arrival of the New Romantics in the early 80s.
Hear classic tracks from the likes of Blondie, Elvis Costello, The Police and The Boomtown Rats. Will you agree with Jeff's choices? Who did he leave out?
WHY? All on vinyl with added trivia and the chance to join in the chat from home!
A lived streamed event as part of Norden Farm Online.

£6.50 per household
Booking cut off time: 5pm Tuesday 26 May