F
T
C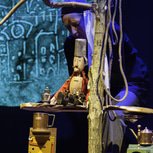 The Tinderbox
A roguish soldier acquires a magic tinderbox.
It gives him the power to summon three extraordinary dogs to do his bidding. Join the soldier on a remarkable roller coaster adventure from rags to riches and back again! With rod puppets, shadow puppets, humanettes, glove puppets and animation. Suitable for ages 4+ years.
WHY? Based on the story by Hans Christian Andersen
Studio
£10 (£8 under 16s)
Family & Friends (4 people) £32
C
T
F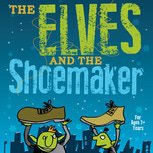 The Elves and the Shoemaker
Sam Lacey makes terrible shoes... until one night when two tiny visitors climb in through the window and start cutting and stitching and gluing… Sam's life is never quite the same again!
The show features stunning puppets, music and a whole host of surprises.
Stuff and Nonsense Theatre Company join us this Christmas with an up-to-date, size 13½ re-telling of everyone's favourite story about elves and shoes! With puppets, dancing, comedy and quirky songs – will there be a happy ever after?
'They've done it again - delivering a simple tale, enchantingly told' The Stage
Are you ready for shoes made of bread… shoes that can make you dance… feather shoes that tickle your feet until you can't stop laughing?
Suitable for ages 3+ years.
Pre-show 'Touch Tours' for children with autism and blind and partially sighted children can be arranged (morning performances only, limited availability).
£13.50 (£11.50 Under 16s)
Family & Friends (4 people) £46
Groups £12.50 (Group rate applies to bookings of 10 or more seats for constituted groups or 20 or more for family and friends)
Supported using public funding by the National Lottery through Arts Council England. Commissioned by Lighthouse, Poole's Centre for the Arts and The Brewhouse Theatre & Arts Centre, with additional support from Salisbury Playhouse.
The Elves and the Shoemaker Art Competition
Enter for the chance to win a goody bag and turn on the Christmas Lights at Maidenhead Town Hall! All artwork entered will also be displayed in our Gallery exhibition in December.
How to Enter
Draw, paint or create a pair of amazing shoes made from something surprising
Alternatively, draw, paint or create an exciting outfit for an elf
Don't forget to decorate your frame!
You can download an entry form here, please remember to include your contact details on the back of your entry.
Entries will be judged in two age groups: 3 - 5 years and 6 - 8 years.
Please send your entries to Norden Farm Centre for the Arts, Altwood Road, Maidenhead, SL6 4PF or drop them in to our Box Office.
Deadline for entries is Tuesday 15 November. Winners will be contacted by Friday 18 November.
M
F
D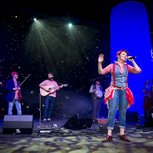 New Year's Eve Hoedown at The Farm
See in 2017 and celebrate New Year's Eve in Maidenhead - heck yeah it's a hoedown!
Join ceilidh and barn dance band Cut a Shine for foot stomping, rip-roaring, thigh-slapping traditional music and a night of all types of barn dancing. A fun, lively and thrilling way to celebrate this New Year's Eve!
Dust off your cowboy hats, gingham checks or general fancy dress for frolics on the Courtyard Theatre dance floor.
So no need to head into the city, make this New Year's Eve one to remember - right here in Maidenhead!
£20 before 31 October, £25 after
Supporters £17 before 31 October, £22 after
Offers applied in basket
Click here to visit the band's website

Dress code
• Cowboys and Girls
• All kinds of Party
• Gingham and Checks
Games
Table top and floor games in the Studio and barns including:
• Buckaroo
• Ring toss
• Dominos