F
C
T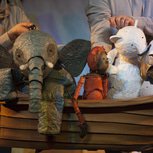 The Journey Home
Join Polar Bear as he sets off in search of a new home when the ice starts melting.
Travelling through storms, busy shipping lanes and across oceans, he picks up some exciting friends along the way. Meet them all on their journey of discovery and friendship? Adapted from the acclaimed children's book by award winning author Frann Preston-Gannon. Suitable for ages 3+ years.
WHY? 'A stunning piece of visual theatre' Frann Preston-Gannon, author of the book
Click here to read a review on MidLife Mum's blog
Click here to read a review on Childplays blog
Here's what audiences at Little Angel Theatre have said:
Extraordinary theatre…effective at all levels for the younger child and anyone of any age'
'A really inspiring and clever approach to environmental issues for kids and adults'
C
D
Dick Tracy
There's been a series of high profile crimes right across the city so the police chief's put his best man on the job – Dick Tracy.
It's down to the square-jawed, hard-hitting, fast-shooting, comic book detective to solve the crime the only way he knows how... the crime solving way. A physical comedy with fooling, live music and lightning quick character changes spattered with mystery, malice and mischief.
WHY? 'A company on top form and leagues ahead of anyone else doing this work' ★★★★★ What's On Stage
This event is on sale to Bronze, Silver and Gold Members until Wednesday 1 April
F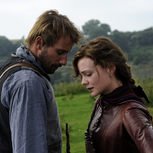 Far from the Madding Crowd
Dir: Thomas Vinterberg 2015
Bathsheba Everdene is independent, beautiful and headstrong. She is courted by three very different suitors – sheep farmer Gabriel Oak, soldier Frank Troy and bachelor William Boldwood.
WHY? Based on the literary classic by Thomas Hardy