F
V
C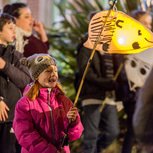 The Carnival of the Animals: Lantern Trail
The Lantern Parade is BACK – just not as you know it!
For over 10 years, Norden Farm has thrown light onto Maidenhead High Street as part of the annual Lantern Parade, and we can't let Covid extinguish the magical lanterns.
Our 2020 Lantern Trail is a covid-friendly community project which will illuminate Maidenhead following a dark year.
You can explore the trail at any time from Sat 5 - 12 Dec, locations include Maidenhead Library, Filling Good and 124 Studios. Check out the interactive map below!
---
---
You can also get involved with our online on-demand Lantern Making Workshops - so that you can get creative and make your very own lantern to illuminate your way on the trail. Find out more and purchase your Lantern Making Kit here.
Saturday 5 - Saturday 12 December
Maidenhead Town Centre
Free Event
---
Share your lanterns!
We want to see your masterpieces illuminated – hold your own mini parade around the living room or in the garden!
Send your photos and videos to [email protected] and we will include them in our Lantern Trail short film. You can also share your photos with us on social media – remember to tag @nordenfarm using #LanternTrail2020
---
With thanks to our supporters:
RBWM | The Cyril Taylor Charitable Foundation | The Spoore, Merry and Rixman Foundation | Arts Council Emergency Response Fund | Cultural Recovery Fund
O
D
T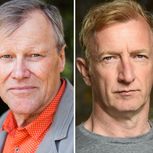 Sonnets, in action, with actors
A group of actors come together to recite Shakespeare in a completely unique performance, all in the aid of charity.
In March 2020 theatres and film sets closed in the UK and around the world.
How did some actors, directors and academics pass the time? They met by Zoom every week for six months and threw themselves in to Shakespeare's sonnets.
The acting company includes Steffan Rhodri (Gavin and Stacey, Harry Potter), David Neilson (Roy Cropper from Coronation Street), Miles Jupp (The Thick Of It, Rev, Greed). Other actors have played at National Theatres from Ammanford to Tokyo, the Royal Shakespeare Company, the West End and Broadway.
This show is part master class, part rehearsal, part sharing, part spoken word gig, part group therapy, and all audience participation. The actors share what they have learned about the sonnets during lockdown.
The only script is the sonnets and anything could happen. Professor Carol Chillington Rutter (Professor of Shakespeare and Performance Studies, University of Warwick) will be on hand with a complete works, a microphone and a bell, if things start getting out of hand.
Expect a fun, unpretentious, accessible, cliche-busting, myth torpedoing introduction to playing Shakespeare. Come, listen, participate, heckle and leave everything you've learned about Shakespeare at the door.
Online streaming tickets are also available for this event – so you can enjoy the show live from the comfort of your home.
WHY? An event in aid of Norden's Ark Appeal and Harry's Fund.
Courtyard Theatre and Livestream
£20
Booking cut off time: 30 minutes before each performance