F
E
D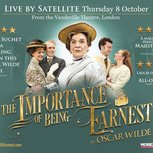 The Importance of Being Earnest
Encore screening from London's Vaudeville Theatre. Celebrated actor and Poirot star David Suchet is the formidable Lady Bracknell in Oscar Wilde's much loved masterpiece.
Wilde's superb satire on Victorian manners is one of the funniest plays in the English language – the delightful repartee and hilarious piercing of hypocrisy and pomposity will make you laugh out loud!
Two bachelor friends, the adorable dandy Algernon Moncrieff and the utterly reliable John Worthing JP, lead double lives to court the attentions of the exquisitely desirable Gwendolyn Fairfax and Cecily Cardew.

The gallants must then grapple with the riotous consequences of their deceptions – and with the formidable Lady Bracknell.
'Laugh-loud funny… all-out joy' The Times
'David Suchet gives a magnificent, stage-filling performance' The Guardian
'David Suchet shines as Lady Bracknell' The Independent
'David Suchet makes an inspired Lady Bracknell' Daily Telegraph
WHY? ★★★★ The Times | ★★★★ The Guardian | ★★★★ The Independent | ★★★★ Daily Express | ★★★★ Sunday Express | ★★★★ Daily Mail | ★★★★ Evening Standard
Click here to go to the official website.
E
F
T
NT Live: Hamlet
An encore screening from the Barbican.
As a country arms itself for war, a family tears itself apart. Forced to avenge his father's death but paralysed by the task ahead, Hamlet rages against the impossibility of his predicament, threatening both his sanity and the security of the state.
WHY? Academy Award® nominee Benedict Cumberbatch takes on the title role of Shakespeare's great tragedy
C
F
C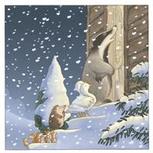 One Snowy Night
A Tale from Percy's Park by Nick Butterworth
One winter's night it was so cold it began to snow
Great big snowflakes fell past the window of Percy's hut…

Percy the park keeper always feeds the animals in the park where he lives. But one cold winter's night Percy finds his little friends shivering on the doorstep – they need more than food and he must find a way to help them…
A snuggly, heart-warming story, with songs to sing along to and furry friends to meet.
The show's original run was at Norden Farm in 2010 and it returns by popular demand! Created by Slot Machine, the company that brought the hit Christmas shows Miki (2011) and Kipper's Snowy Day (2014).
Suitable for ages 3+

One Snowy Night Art Competition
Enter for the chance to win a goody bag and turn on the Christmas Lights at Maidenhead Town Hall! All artwork entered will also be displayed in our Gallery exhibition in December.
How to Enter
• Draw, paint or create a snuggly nest made from a household object or piece of furniture with a sleeping animal snuggled inside eg a sock, a hat, a shoe, a cup, a teapot
• Draw or paint one or more of the characters from the book on a very snowy night
You can download an entry form here, please remember to include your contact details on the back of your entry.