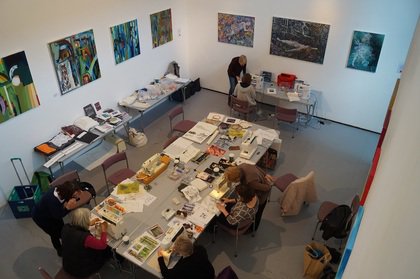 Led by Amanda Schenk.
A sociable group for people who want to make art, but just aren't doing it right now!

Do you have a box of art materials that you keep meaning to use? Did you used to create art but stopped doing it somewhere along the line? Are you inspired to make art when you go to exhibitions?

Professional artist Amanda Schenk leads this creative community. Play with materials, go on art adventures and explore your arty side. You'll grow in creative confidence, meet new people and have fun getting playful with a range of art techniques.

Wed 2 May – 23 May, 6 Jun – 27 Jun and 4 Jul – 18 Jul
10.30am - 12.30pm
£48 for 4 week course | £36 for 3 week course
Suitable for 18+ years
Click here to download the Creative Arts Social Club Information Sheet.