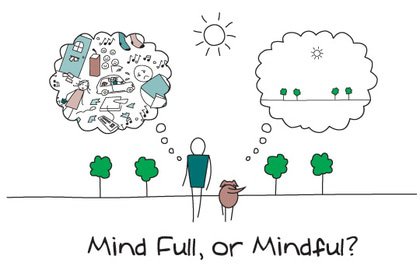 Led by Jane Barker.
Step out of 'busy, busy, doing, doing' and drop into just 'being', to find some calm amongst the chaos. Learn how to focus on the present to help manage thoughts and feelings and to improve mental well-being.
Mindfulness intentions for 2018
Tues 16 Jan
Do you set yourself resolutions for the New Year? How about setting Good Intentions to nourish yourself instead? Let's take a look at the stuff we fill our lives with and how they contribute to our physical and psychological well-being.
Mindfulness and Love – Connecting
Tues 6 Feb
We are born defenceless with a need to relate and feeling connected is good for our psychological well-being. Mindfulness practices can help us connect both with ourselves and others.
Mindfulness for Pain
Tues 6 Mar
Research shows that mindfulness can be as effective as prescription painkillers. This session focuses on the use of mindfulness to relieve pain and its associated suffering.
Mindfulness for Insomnia
Tues 17 Apr
Is your mind stuck in the 'on' position, making the idea of sleep impossible? This session looks at how mindfulness regulates stress to create a sense of calmness conducive to restful sleep.
7.30pm – 9pm
£10 per session
Suitable for 18+ years