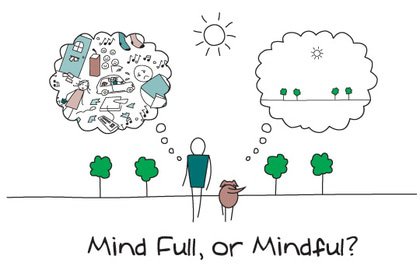 Led by Jane Barker.
Step out of 'busy, busy, doing, doing' and drop into just 'being', to find some calm amongst the chaos. Learn how to focus on the present to help manage thoughts and feelings and to improve mental well-being.
Mindfulness for Insomnia
Tues 17 Apr
Is your mind stuck in the 'on' position, making the idea of sleep impossible? This session looks at how mindfulness regulates stress to create a sense of calmness conducive to restful sleep.
Mindfulness - Taking care of ourselves to be able to take care of others
Tues 15 May
It is easy to think of Mindfulness as selfish but actually, recharging ourselves
and learning stress reductions to pass on to others can be the wisest choice we make.
Mindfulness - Acceptance, what if there is no need to change?
Tues 12 Jun
Always trying to be better, nicer, more efficient...No wonder we're stressed!
Is acceptance of who we are the key?
Mindfulness - Feel it to Heal it
Tues 10 Jul
Responding to stressors and other difficulties in our life requires us first to notice what is going on for us. This session explores how we often distract ourselves to avoid feeling discomfort.
Mindfulness - Just noticing
Tues 14 Aug
Expanding on last month session we will continue to explore how noticing what is
going on in the present moment can bring us more in touch with ourselves and
free us up from worry and anxiety.
7.30pm – 9pm
£10 per session
Suitable for 18+ years