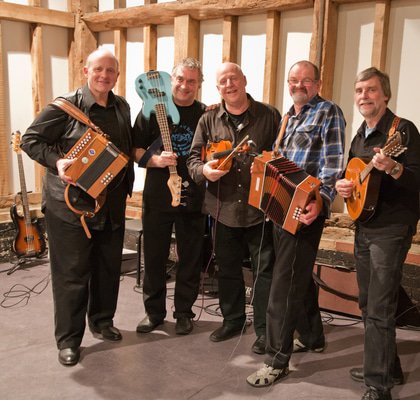 You'll be in safe hands with the expert calling and playing from our band Nedron's Jig.
The band formed specially for Norden Farm's Ceilidhs and between them play Squeezebox, Fiddle, Mandola and Bass. The four musicians consist of two from the folk super-group Feast of Fiddles and two from the band Phungus.
Caller Brian Jones will be on hand to guide you through all the dances. Brian has been involved in Folk Dance for many years, he calls not only the traditional favourites, but also his own original routines. His dances are used by dance callers right across the British Isles!
Dances include the likes of Nottingham Swing, Cumberland Square 8, Virginia Reel, Bridge at Athlone, Gay Gorden's, Dashing White Sgt and The Willow Tree. Expect familiar tunes including Atholl Highlanders, Rogue's March and Dashing White Sergeant.
WHY? A social evening of dance in our atmospheric 18th century Long Barn - no experience necessary!
Long Barn
£15 (£13 conc)