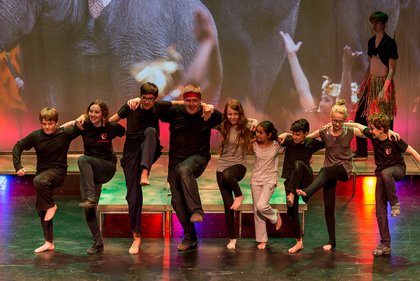 Led by Troublemaker Theatre Company.
Create an entire show from idea to performance. Experience all aspects of stage production, from lighting to stage blocking to acting with the help of professional directors.
Suitable for ages 10 – 16 years.
This year's theme is: Sherlock Marple and the Case of the Dragon Stone
The greatest criminal minds pit their wits against the ultimate detectives. Come and join Troublemaker Theatre Company to create the most incredible murder mystery of all time. All we have so far is a title, the rest is up to you. Over the week professional directors will help you bring your ideas to reality and make a show which will amaze, baffle and intrigue our audience on Friday night.
Mon 13 – Fri 17 Aug | 10am - 4pm (6pm Fri)
£110 (£95 Advantage Card holders)
Make the most of your time here and book in to see a film at the end of the session. Screenings start at 4.30pm, under 16s tickets £5.
Tues 14 Aug 4.30pm - Show Dogs (PG)
Wed 15 Aug 4.30pm - Patrick (PG)
Children will be seated in the balcony, accompanied by a chaperone.