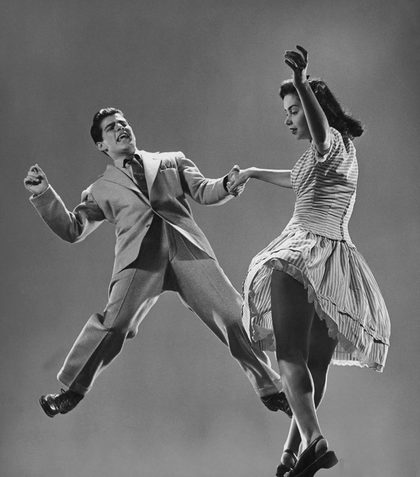 Led by John and Debra Scanlon.
Learn to Lindy Hop with a couple who have danced, performed and taught together since meeting on the dance floor in 1996. Lindy Hop is the great partner swing dance from New York's Savoy Ballroom. From exuberant and light-hearted to laid back and smooth, Lindy Hop is an expressive dance that puts a smile on every face. Join us for some beginner classes and you will soon be dancing to some of the greatest music ever.

No previous experience needed - come ready to have bags of fun. Bring a partner or come alone - it's up to you.
Tues 16 May – 19 Sept (exc 30 May, 1, 8, 29 Aug)
7.30pm – 8.40pm
£7 per class or £30 for block of 5
Offers applied in basket
You should wear comfortable clothes that leave you arms free and do not restrict movement. Layers are a good idea as you will be exercising indoors. Your shoes should be comfortable, flexible and secure. Smooth soles are highly recommended so that you can easily turn on the ball of the foot. Heavy shoes, raised soles or high heels are very much to be avoided.
Click here to visit the Swing Crazy Website